Staying active during the winter months is easy and fun with a variety of activities for any age.
Snowshoeing and Cross-Country Skiing
The Bruce County Trail Network provides information regarding all trails in Bruce County. Trails in and around our community include:
Brandt Tract Trails
The Brant Tract Trails are located around Paisley and provides 25km of hard-packed surface.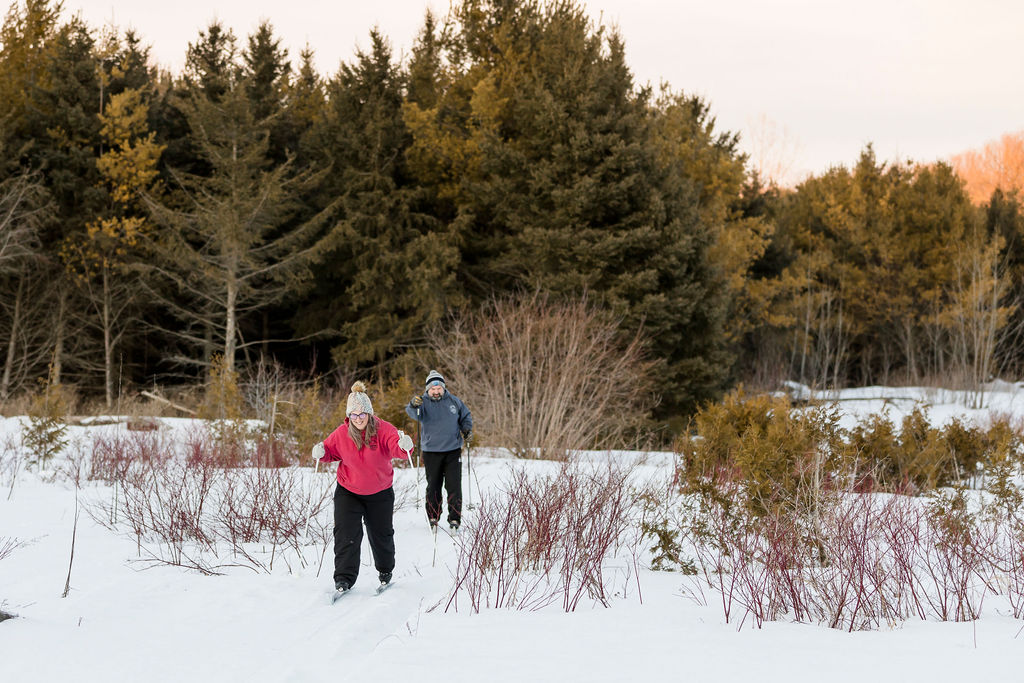 Bruce County Rail Trail
Bruce County Rail Trail is an 80km multi-use trail running through many communities in Bruce County.
Chesley Heritage Trail
Chesley Heritage Trail offers 4km of hard-packed trail through the Town of Chesley.
Paisley Trail
Paisley Trail is multi-use with hard surfaced and mowed grass. This 6km trail runs through the Village of Paisley.
Saugeen Bluffs Conservation Area Trails
Saugeen Bluffs Conservation Area has various 2.5km loops ranging from easy to moderate, with hard packed and wood chipped surfaces.
Snowmobiling
Many Ontario Federation of Snowmobiling Club trails pass through Arran-Elderslie. OFSC District 9 has more than 2900km of snowmobile trail throughout Bruce, Grey, Huron, Wellington and northern Perth Counties. Trails are in Bruce and Grey County.
Winter programs
Check out the groups and activities to help you get through the winter months!
Sports Groups
Activity
Contact name
Contact information

Badminton

Rainer Schroder

519-364-2490

Chesley curling club

Peter Knipfel

Paisley curling club

Steve Gregg

519-353-5217

Tara curling club

Don Benedict

AE minor hockey

Paisley figure skating

Janine Adams

Tara skating club

Michelle Nesbitt

Chesley hockey skills

Katrina Eke

Tot learn to skate-Chesley

Katrina Eke

Mens pick up basketball- Chesley

Woodie Brown

Morning fitness- Chesley

Grace Williams

519-363-2405

Chesley carpet bowling

Audrey Walsh

519-363-0904

Paisley carpet bowling

Ross Ziegler

519-353-5633

BAFHT fitness

Holly Devisser

519-363-3119 ex 135

VON smart exercise

VON

519-371-5331 ex 250

Walking group

Katrina Eke

Play in Bruce Grey
Adult Recreation Groups
| Activity | Contact name | Contact information |
| --- | --- | --- |
| Crokinole | Clare Keupfer | 519-934-1351 |
| Chesley solo club- cards | Doug Walsh | 519-363-0904 |
| Tara sunset club- 55+ meetings | Brenda Funston | |
| Paisley concert choir | Sheryl Steinhoff | 519-353-7202 |
| Tara legion cribbage | Brenda Funston | |
| Chesley happy gang- cards | Doug Walsh | 519-363-0904 |