The Municipality of Arran-Elderslie will be updating residents on COVID-19 information through this webpage. The Municipality of Arran-Elderslie declared a State of Emergency on March 24, 2020 in response to COVID-19. You can view the full press release for more information.
View our most recent COVID-19 newsletter
Municipal Facility Status
Municipal facilities are closed until further notice.
The impacted Municipal facilities that are closed to the public:
• The Municipal Administration Office
•All parks and playground structures
• Paisley, Tara and Chesley Community Centres
•Chesley Trailer Park open to seasonal tenants only
• Arkwright Hall
• Public Works facilities
• Paisley Treasure Chest Museum
• Chesley and Tara Firehall Rental Rooms
The Arran and Chesley Landfills are open. No cash transactions will be permitted and debit tap will be the only accepted form of payment. Please note that waste is only accepted from Arran-Elderslie residents. There is a 5 car limit in the landfill.
Taxes and other Municipal payments can be paid by mail, drop box at the Municipal Office in Chesley, online and telephone banking.
Garbage and recycling curbside collection is continuing as usual. Please expect delays in pickup as there is an increased volume of waste.
You can view the full press release for more information.
Fire Ban Lifted
As of April 14 2020, the Open Air Fire Ban has been lifted. The Fire Ban was put in place on April 3, 2020 in an effort to avoid additional demands on emergency services during the COVID-19 pandemic.
Fire departments across Bruce County now have additional PPE supplies and enhanced operating procedures in place to keep firefighters as safe as possible when they are responding to emergency calls.
You can view the full press release for more information. Please note you must obtain a burn permit to have a fire in Arran-Elderslie. View our Fire and Emergency Services page for more information.
Free WIFI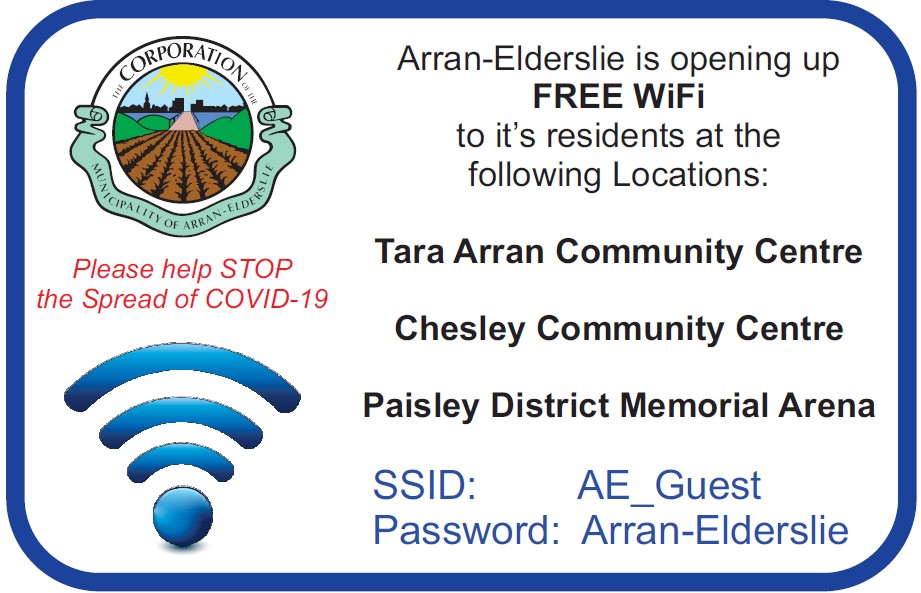 More Information and Important Resources